Winter Striper at Lake Anna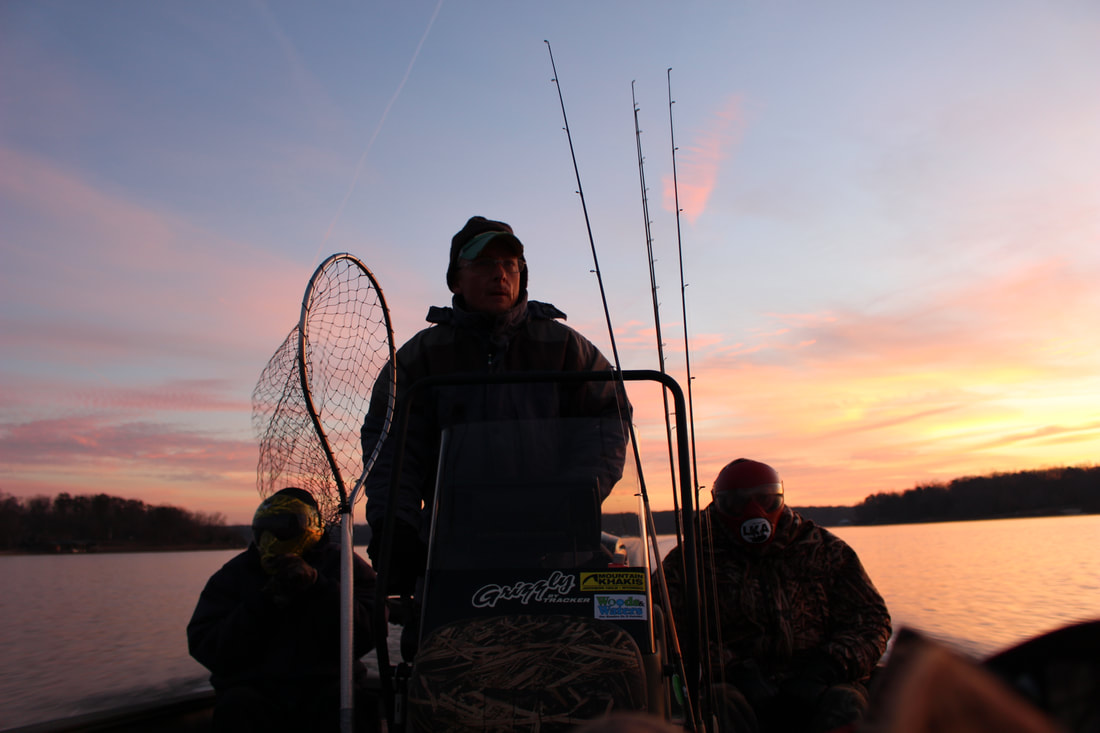 My father in law was in town to visit for Christmas, and deer hunting and duck hunting had been extremely slow. So, I decided it was time for a fishing trip to keep the juices flowing. It had been a long time since I had fished with Chris McCotter at Lake Anna (McCotter's Lake Anna Guide Service https://www.facebook.com/McCottersLakeAnnaGuideService/ ) so I shot him a quick e-mail hoping he had a half day to get us out on the water for a striped bass.
Turns out that Chris was more than willing to take us, plus my father, out on the lake and educate me on some winter fishing. We arrived at 7 AM at High Point Marina as Chris was backing his Grizzly boat into the cold waters of Lake Anna. After taking care of business in the marina, we headed to the boat to reacquaint ourselves with Chris.
If you have never fished with Chris McCotter you are missing out. This is particularly true if you want to learn about Lake Anna. McCotter also runs Woods and Waters magazine (https://www.facebook.com/Woods-Waters-Magazine-324686819747/) which is read statewide and covers the gauntlet of the outdoors with informative articles, tips and destinations for outdoorsmen and women. Chris also knows Anna like the back of his hand.
Within fifteen minutes or so of running uplake to a location Chris thought we might see some striped bass, we were casting swimbaits to feeding stripers. It was not long before my father hung one and brought it boatside for Chris to net. Not long after that I was able to catch my first hybrid (a striped bass/white bass cross) and put him in the livewell.
Chris moved us around to try to to stay on top of the fish and we kept pecking at them throughout the morning adding another three fish to the livewell and then returning one that was just shy of ending up on the supper table.
Once the striper bite died off some, Chris took the time to tutor me on the side imaging of his Hummingbird sonar unit. I was amazed at the clarity of the unit as I watched the screen show boulders, fish, shadows of fish, pier pilings and even rocks! Chris was very patient with my rapid fire questions about the unit and its abilities and it was obvious he was well tuned to how to squeeze all the info out of the sonar that he could to put clients on fish.
We caught up on the past 15 years (Man I waited too long to get back out and fish with him!) and discussed everything from bird hunting, dog training, duck hunting and even kids. The weather started to warm up and since the striper were no longer in a feeding frenzy, Chris took us over to a dock he knew that held crappie. We picked at them for a bit with my father in law catching most of them. Since they were not ready for the pan, we decided to call it a day, get some photos and make plans for a trip in the future. Chris was kind enough to get some photos with my camera for us (ALL PHOTOS BY CHRIS McCOTTER) and I appreciate him doing so. I don't get to appear in many photos with my father, let alone my father and father in law.
I plan on booking Chris for a summer bite for the striper and hybrids.

I can tell you the fish were soooo good tonight that I was not able to get any photos of the filets after they were cooked. They kept disappearing from the plate before I could get my camera. I cooked some with Old Bay, some with Creole and some with Blackened Cajun spice from Kenny's. Not one piece was left!
Thanks Chris for your professionalism, kindness and a great day out on the lake. What a great change of pace it was to catch fish instead of pull the trigger on meat!
---
Two Girls, A Canoe, and a Butterfly
Mark Fike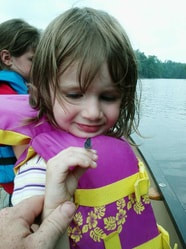 Girls without a doubt are the most dangerous creatures God ever made; that is if you are in a canoe with them and a butterfly. Last week I took a day off work after being pestered by my two little ladies. They wanted me to take them fishing. I did not know the adventure I was in for until the day was over. We took a ride to the country store to stock up on Gatorade, ice and bait and then we headed down to a local pond. The drive down to the pond was filled with excitement as the two argued about who would catch the biggest fish and what color it would be and then what type of fish the biggest one would be.
When we slid the canoe off the truck and into the water I explained to the girls that the canoe tips easily and that we had to be careful. As I dropped my camera bag into the canoe I wondered why I bothered.
The girls had their life jackets on before I let them walk down the dock and I was beginning to think they would need them. They were busy leaning way out over the water looking at the critters floating around. I decided that maybe a good dunk in the pond on a hot day would help them gain respect for the water. Alas, they managed to regain their balance and run back down the wooden planks to excitedly tell me what they saw swimming in the water.
A few minutes later we were busy paddling across the pond to some overhanging limbs on the far shoreline. My youngest daughter wanted to fish before we even got away from the dock. I had to take the rod from her hands and put it behind me as she was trying to cast it. My oldest daughter was busy leaning out over the water and trailing her hand in its cool, tea colored depths. Meanwhile I was busy leaning the other way and thinking about my camera in eight feet of water. But, life was definitely good. I was glad I took off work and I knew we could clean up on some bream to eat for supper if I kept the girls interested long enough.
I was correct in thinking the bream would cooperate with us. Within minutes of casting Kristy's line out, her float went under. KD had successfully launched her bait into the shade all on her own. She liked the new rod she won in local writing contest. Meanwhile, Kristy's fish turned out to be a beautiful sunfish that she decided to return to the water.
"Its momma would be looking for it," I was told.
"Girls…"
KD had a fish swinging over the canoe by the time I baited Kristy's hook and cast her line in again. And so it went. They kept me so busy that the rods I tucked into the truck for myself were not being used. I should have known better. The good thing was that there were no tangles, no squirrels running for their lives from misguided casts into the trees, or lost rods. The fish kept getting hauled in and I kept baiting hooks and washing my hands in the pond only to dirty them again before I could dry them. The girls put a dozen fish on the stringer in less than twenty minutes. Kristy grew quite good at poking her finger in the bluegills' mouth to hold and then release them after giving them a pep talk about leaving worms alone so their momma would not be looking for them.
I think she enjoyed being bossy with the fish as much as she enjoyed saying, "Daddy, I got another one!"
As with any kids, they grew tired of what they were doing and were looking for another avenue of entertainment when it came in an unexpected form. A butterfly, a very small butterfly, soon joined our party and began flying around within the airspace of the canoe. I knew right away that this could be disastrous so I grabbed my camera bag and wrapped the handles around the seat cushion about the same time Kristy noticed our new friend. The butterfly danced on the light breeze, skillfully avoiding the little fingers chasing it. Both girls were leaning dangerously towards the insect, giggling and laughing hysterically while I held on to the sides of the canoe trying to keep it balanced. Things got a bit hairy a few times and I finally had to put an end to the rocking and leaning.
Sharply, I cut into the giggling and suggested the girls not send daddy swimming since he does not like to swim all that much no matter how hot it gets.
"But we want to catch the butterfly!" they exclaimed.
That very second the insect lighted on the index finger of my youngest daughter. Imagine the size of her eyes when she saw what happened. I nearly died laughing. She began giggling from the tickling the butterfly was doing with its legs on her finger. I advised her to sit still and of course she did not. She wanted to touch it. The butterfly flew off and then lighted once again on her hand. The cycle repeated itself and the soft winged insect would land on her hand, nose, life jacket or arm. I was amazed that it kept coming back. We were less than ten yards from shore and it could have left at any time.
KD was feeling left out so I suggested that Kristy hold her finger out to KD and let the butterfly walk over to her sister. Sure enough it did and then both girls were trading their little buddy back and forth. When one would get too possessive of it the insect would loft itself into the air and then light on the other girl. More giggling would result and then they would trade it back and forth. My amazement grew with each passing minute. I have never seen a butterfly stick around so long in my life. This one hung around for over a half-hour before it finally tickled its good byes on their fingers and flapped for the shoreline as my girls waved to it.
Knowing that this was an exceptional experience I explained to the girls that certainly they would not see this happen each day. Kristy asked why it stayed on her finger so long. I tried to come up with some plausible answers. Maybe you smell good like a flower, maybe it liked the salty taste of your skin…
Then I suggested that perhaps God knew they would enjoy a visit from one of His beautiful creatures and blessed them with it for a short time. They agreed that certainly this was the reason the butterfly stayed so long. KD smelled her hands and reported that they smelled like fish and were not anything like flowers. With that settled we all went back to fishing. I was thankful I did not have to swim as a result of the girls chasing the butterfly around the canoe.
When the day was done, the girls caught plenty of fish for dinner and it turned out to be a day they would remember for a long time. That butterfly made the trip a memorable one. As for me, I doubt I will forget about the trip either. Who can forget two girls chasing a butterfly in a canoe?


---